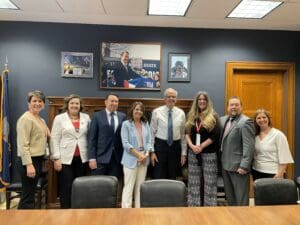 Travel professionals from all over the country converged on Washington, D.C. in April to visit their lawmakers. As shared by TIAK's President, Melissa Dixon, our "representatives have the means to make real change in our industry. We want to make sure the voices of the travel industry are heard so improvements can be made."
Several travel industry leaders in Kansas joined Dixon for the trip and received a shout-out from Sen. Jerry Moran (R-KS). Dixon went on to share the magnitude of individuals involved in her travel, alone:
"Many individuals made my trip possible: hotel staff, airport maintenance workers, restaurant employees, janitors, shuttle drivers, airline pilots and attendants, air traffic controllers, baggage handlers – I could go on and on!
"The travel industry creates countless service jobs. Vacancies in those jobs hurt the visitor experience and cost our communities millions of dollars in visitor spending. We urged our representatives to act on a few items that could make major strides" including:
Provide H-2B Cap Relief
Lower Visitor Visa Wait Times
Advance FAA Priorities