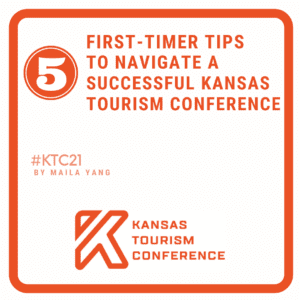 Conferences are a great way to connect with people in your industry and learn from the best in the field.  The Kansas Tourism Conference (#KTC21) is THE conference to do just that and more!  You'll love the motivational speakers, the free swag, networking with peers, awesome food and off-site experiences.   Here are some tips we've gathered to help make your first conference experience enjoyable and successful:
Chart your course: It can be overwhelming and incredibly easy to get lost in the flow of events.  Before the conference, review the agenda in advance and pick out which sessions interest you the most focusing on areas of your role.  This will give you an idea how to structure your day and help you know where you need to be and when.  Find the tourism conference agenda here: Kansas Tourism Conference – Travel Industry Association of Kansas (tiak.org)
Come prepared: Bring a small notebook, pen, business cards and your game face.  Throughout the conference you will get plenty of great ideas worth jotting down.  You'll also meet many new people you may want to stay connected with after the conference.
Be engaged: It's hard to be fully engaged at the conference if you are constantly checking in with work and responding to email and phone calls.  Get the most out of the conference by minimizing "office work" and keeping non-conference activities to a minimum.  Focus and immerse yourself to gain from the session you are attending.
Network: The whole point of a conference is communicating with people!  Don't be afraid to attend social hour and off-site activities – hanging out and making conversations with complete strangers can be scary, however the majority of people at the conference are there to connect with like-minded individuals, too.  Many of these events also give you the opportunity to experience the conference host city like a VIP.
Visit the vendors: Review the list of exhibitors before you arrive and highlight the vendors you need to meet. Seek out companies with opportunities that help improve your services.  This will help to use your exhibit time to your best advantage.  It's also the best place to pick up some cool conference swag!