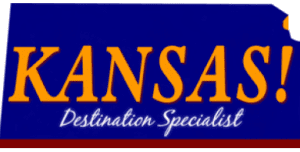 Are you just mere steps away from obtaining your Kansas Destination Specialist designation? Maybe you have a book report to complete, or need to visit an attraction and write a quick report—click here to see where you're at in the KDS journey!
Make 2021 the year that you go from seeking your KDS to joining the ranks of others who have earned this state-wide designation for tourism professionals. Let's take a peek at certification requirements as a quick refresher (keep in mind this is not a renewal year, so only new KDS seekers are being awarded in October).
Earn 25 points by attending education conferences, seminars, webinars, trainings, etc. Points accumulate as follows: half point for webinar or seminar; one point for half-day session; two points for full-day session; and three points for two or more days. TIAK events are automatically awarded credit. For all other educational events, candidate must submit the Education Session Follow-up Form within the same year as the event was conducted.
Read and complete three book reports – one from each category. Categories include: Kansas, Marketing and Leadership. Click here to see the approved reading list!
Visit a Kansas attraction, 50+ miles from home, and submit the visiting attraction form. Earn one point for each attraction.
Here's five tips to help you finish up those last requirements so you can call yourself a Kansas Destination Specialist this year!
Know where you stand and what is left to complete your designation.
Set aside time each week to finish each task, or if you need to visit an attraction more than 50 miles away, plan the day you'll go and make a day-trip out of it! Take notes while you're visiting so writing your report is easier. And, write that report ASAP when everything is still familiar!
Now that in-person meetings and events are mostly back in person, seek out potential trainings or seminars that could count toward your designation.
While there are dozens of book titles on the approved reading list, if you see one that falls into any of the categories, but isn't on the list, just send the title, a brief summary and ask if it can be considered. Most of the time, it will be approved!
You'd be surprised at how fast those points can add up if you take advantage of all the TIAK and state tourism offerings hosted throughout the year. Destination Statehouse and the annual conference automatically count if you attend those events. Find a few more training options in travel, tourism, leadership or Kansas-centered topics, and you'll be well on your way to KDS!