2023 KTC Keynote Speakers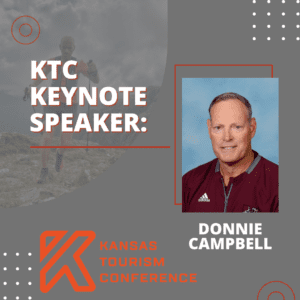 Donnie Campbell
On Tuesday, October 17th the Kansas Tourism Conference (KTC) is excited to welcome speaker, Donnie Campbell! Donnie is not just an inspirational coach but also the lead character of the Emmy Award-winning show, Ted Lasso! Donnie's valuable leadership lessons can be seen on the court but more importantly in the workplace!
Donnie will help tourism professionals figure out, "What's your MVP?" but in a way to personalize your own most valuable player through a mission/vision/plan that will form a strong foundation for everything else. In addition, you'll learn how to believe, motivate and mentor, build leadership and confidence, strengthen your "why" and define success.
Donnie was a math teacher and basketball coach from Kansas who was oddly picked by American Actor Jason Sudeikis when Jason played basketball at Shawnee Mission West. Donnie was an inspiration to Jason and it ended up making a huge impression on millions around the world. Donnie graduated from Lions High School in 1980, and attended Kansas State University playing football and basketball. Today, he is busy making appearances on Good Morning American and The Today Show.
This one-of-a-kind keynote combines heartfelt storytelling with lessons in leadership that bring tactical takeaways to today's challenging environment. It's a speaker at KTC you won't want to miss!