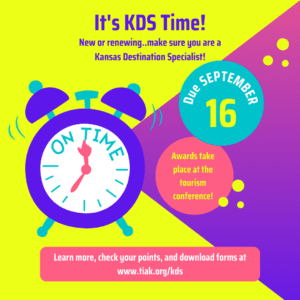 As the Kansas Tourism Conference approaches, some of you may be thinking about Kansas Destination Specialist (KDS) designation or renewal.
NEW KDS SEEKERS–Here are details you need to know to receive KDS:

1. The deadline for submissions this year is September 16, 2022.
2. Check https://tiak.org/resources/kds/ for the list of how many points you have so you know what you need for completion. If your name is highlighted in red—you are almost there. Just need those book reports. If your name is in green—you are close to having 25 points. Knowing where you are in the process will help you decide if you can make it happen by the deadline.
Anything you have done since last year's deadline of Sept. 17, 2021 can still be submitted.
All TIAK educational offerings you register for and attend automatically give you points without you needing to complete any follow-up paperwork. Any other educational offering must be submitted on the Education Session Follow-up Form.
There is a recommended book list but it is hard to keep up-to-date with all the new books being published. If you have a book that falls into one of the three categories (Kansas, Leadership, Marketing) and think it is a great option then send me an email (tourism@cityofliberal.org) with a brief synopsis to get it approved for use.
KDS RENEWALS–Here are details you need to know about renewal:

1. Renewals are required on even numbered years.
You must renew even if you just received your designation last year.
Only two of the listed requirements are needed for renewal. If you attended the Kansas Tourism Conference in 2021, then you already have one requirement met. Often people will renew without even trying if they attend the travel industry events such as Destination Statehouse during the year.
If you have not completed your requirements by early August, you will be getting an email to remind you to do so.
If you have a question you do not see covered, email Sally Fuller at tourism@cityofliberal.org or call 620-626-0170. We hope to see you on stage receiving your designation in Wichita!
–Sally Fuller
KDS Chairwoman