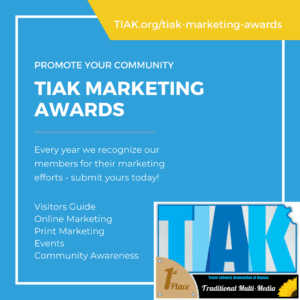 In 2023, TIAK continued its tradition of recognizing outstanding marketing campaigns that have not only showcased the beauty of Kansas but also drawn visitors from far and wide. We are thrilled to present three remarkable winners of the TIAK 2023 Marketing Awards, who have demonstrated the power of storytelling, creativity, and visitor engagement in promoting their destinations and the beautiful Sunflower State.
For a complete list of all winning entries, please click here.
For a press release, please click here.
Small Budget – Online Media
CHASE COUNTY – NEW WEBSITE
Chase County has been recognized as a marketing award winner in the category of "Small Budget, Online Media" for its exceptional work in creating a new website, www.heartoftheflinthills.com. Their innovative and visually engaging website effectively captures the essence of the Flint Hills region, offering visitors an immersive and informative experience. They have successfully showcased the rich cultural heritage, natural beauty, and unique attractions and events of Chase County, Kansas, making them a deserving recipient of this award.
Medium Budget – Community Awareness
VISIT ABILENE – THE WORLD'S LARGEST BELT BUCKLE
Visit Abilene secured a well-deserved marketing award in the "Medium Budget, Community Awareness" category for their remarkable achievement in creating the world's largest belt buckle, a notable attraction showcased at https://abilenekansas.org/worlds-largest-belt-buckle. This innovative project not only stands as a testament to the community's creativity and heritage but also serves as an extraordinary draw for visitors from all around.
Large Budget – Visitor Guide
VISIT TOPEKA – VISITOR GUIDE
Visit Topeka has garnered the marketing award in the "Large Budget, Visitor Guide" category for their exceptional work in creating a captivating visitor guide, available in both English and Spanish versions. This comprehensive guide, accessible at https://www.visittopeka.com/plan/visitors-guide/, has significantly enriched the visitor experience by providing valuable information about the Topeka community, its events, attractions, amenities, and more! The team at Visit Topeka has demonstrated a commitment to inclusivity and accessibility, making it easier for a broader audience to explore and enjoy all that this vibrant destination has to offer. Their dedication and excellence in this endeavor have rightfully earned them this award.
These three winners have not only excelled in their respective categories but have also set an inspirational standard for marketing within the travel industry. As marketing award judge Katie Olson, Assistant Professor of Advertising & Public Relations at the A.Q. Miller School of Media and Communication at Kansas State University highlighted, "It truly is a pleasure to get together with diverse industry professionals to review and reflect upon what everyone in the state of Kansas is doing to promote travel and tourism. It's fun to see how the different areas are using exciting creative strategies to promote Kansas, and I love that I can stay in touch with this area of the industry and speak to the trends in my classes!
Additionally, Karen Crane, 2023 Marketing Committee Chair commented "The TIAK marketing awards are always a highlight of the tourism conference and provide attendees with great ideas for consideration in their future marketing campaigns, events, and promotions. We are fortunate to have a well-established program with capable and dedicated judges, amazing and inspiring entries, and a committee that works hard to make sure the awards program runs smoothly. It is my privilege to have served as the chair of this great committee alongside Allison Calvin and Christina Hayes."
In 2024, Christina Hayes with the Great Bend CVB will take the reigns of the marketing committee!
>> Click here to view all of this year's award winners!
>> Here are some changes coming to the awards program in 2024
Events — You can't submit a conference for consideration unless you're the official organizer or creator of that conference. In other words, you can only submit conferences/events that you've actually been responsible for creating. (Example: you may not enter the Society for American Travel Journalists conference/convention because that conference belongs to SATJ and your community only bids to receive it and assists with hosting).
Analytics – We're going to create a dedicated section for marketing analytics in each entry. The judges find it valuable to have access to data related to the entry, such as the number of attendees, economic impact, reach, and distribution numbers. This additional space is being added because we have a word limit for the entry description, and we want to ensure this important information can be included.
Entries must have already happened or already been released. For example, if you create a campaign that got delayed or hasn't taken place yet, you cannot submit it until you have actually run the campaign. Similarly, if you're organizing an event, like a Halloween gathering which is currently being marketed for the present year, make sure to include the details of the previous year's event. This is necessary because the event must have occurred before it can be evaluated for any awards. We can't recognize or reward an event or campaign that hasn't actually happened yet.