Top 5 Ways to Maximize Your TIAK Membership This Year!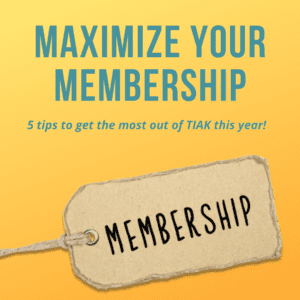 Whether you're new to TIAK or have been a member for years, it's always a good idea to take stock of just how involved you are and how you can maximize your membership investment in our state tourism association! Check out these five tips below on how to get the most out of your TIAK membership in 2022!
Attend functions – there's no better way to meet new people, exchange ideas and seek input than to network with others. TIAK offers several face-to-face opportunities for you to do just that—from Destination Statehouse in February to the annual educational seminar in April to the tourism conference in October! Pick one or all and get involved!
Serve on a committee – do you have a passion for advocacy and legislative topics? Maybe you're more drawn to sales or marketing. Or, your end goal is to serve on the board. Whatever your preference, TIAK can put your talent to work. The association is managed by professionals but cannot survive without volunteer committee and board members. Just ask—there's always a need!
Keep informed via the TIAK monthly e-news and social media posts! Engage in the comments, reply and share. Great discussions begin when members start to work together toward common goals.
If you are new to TIAK, find a mentor! Reach out to someone who's been a member for awhile and ask questions. If you don't know who to ask, email the TIAK office and they'll have a host of names to share with you.
Start working on or finish that KDS certification! Now is the time to add "Kansas Destination Specialist" to your professional achievements. It's a fun and easy way to learn more about tourism, hospitality, leadership and explore Kansas in the process. Visit https://tiak.org/resources/kds/ to learn more! (Current KDS folks—it's a renewal year, just a friendly reminder).