National Tourism Week Across Kansas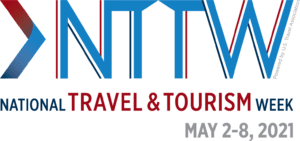 May 2-8, 2021 marks the 38th annual National Tourism Week (NTW) celebration. It's a time when travel and tourism professionals across the country unite to celebrate the value travel holds for our economy, businesses and personal well-being.
While NTW celebrations were held virtually in 2020 as travel buckled under the growing rise in Covid cases, this year we are hopeful that this industry is taking a turn for the better. As such, we are proud to be a part of the #PowerOfTravel and know that our Kansas communities play an essential role in rebuilding our industry and the U.S. economy.
Let's take a peek at the monumental impact travel has on the Kansas economy:
$7.3 billion was spent by 36.5 million visitors to Kansas in 2019
Visitor spending has increased $775 million since 2015
15¢ of each visitor dollar is spent in a Kansas retail store
A traveler is worth $200 per day to Kansas
Overnight visitors represent 40% of all visits to Kansas
$613 million in new capital investment for tourism projects
66,007 direct tourism jobs in Kansas
Each Kansas household would be taxed an additional $600 to replace the tax revenue generated by tourism
Source: Economic Impact of Tourism in Kansas 2019, Tourism Economics
To celebrate this important industry and take part in NTW activities across the U.S., here's a quick glance at what some Kansas communities are doing during National Tourism Week!
Kansas City, KS: Visit Kansas City Kansas plans to share information and statistics on the power of tourism via social outlets the week of April 26. Then throughout National Tourism Week, they will be posting spotlights on various industry partners linking back to a blog on their website. The blog and spotlights will feature ways our partners pivoted and saw community support in 2020, and what they are looking forward to with travel coming back in 2021. Lastly, they will be delivering donuts to various partners and stakeholders throughout the week of NTW, with stats on tourism's impact on KCK/Kansas and a note that says something similar to, "Donut underestimate the Power of Travel!"
Shawnee, KS: Lt. Governor David Toland is the invited guest speaker at Visit Shawnee's "Turn the Page" Celebration of National Travel & Tourism Week on Thursday, May 13, 2021, at the Pavilion at Theatre in the Park, 7710 Renner Road.
Olathe, KS: Join the Olathe Chamber of Commerce as we celebrate tourism week virtually through a networking coffee.  Meet our chamber members and hear about how tourism impacts our community on Thursday, May 6 at 9am.  For more information and the zoom link, visit olathe.org.
Merriam, KS: The Passport to Merriam will launch during National Tourism Week, inviting locals and visitors to #ExploreMerriam. In addition, the Visitors Bureau will be making special deliveries to front line hospitality workers to thank them for their tireless efforts in serving guests to Merriam.
Trego County: It's time to hit the road to explore Trego County and join the 36 million tourists who visit our state each year! This May 2-8, we'll be celebrating National Travel & Tourism Month. Tourism is a vital piece of the Kansas economy, supporting 66K jobs and contributing $7.3 billion to the state's economy, a $775 million increase since 2015! We believe our residents are our best ambassadors, so we've created the #TourTrego challenge to help spread the word about all the great things to see and do in Trego County. It's a fun, interactive way for you to enjoy our county by sharing your best selfies on your Facebook page along with the hashtag "#TourTrego." Each time you do, your name will be entered in a drawing for $50 in Wampum bucks to spend at one of WaKeeney's businesses. We've put together a list of the most popular places to explore around our county to help you get started. Click here for more information on how you can #TourTrego.
Council Grove, KS: While not officially during tourism week, Council Grove is gearing up to celebrate the Santa Fe Trail 200th! The Historic Preservation Corporation and Trail Days Historic Site will be presenting a Santa Fe Trail 200 event on Sunday September 12, at 2:00 p.m. in the Council Grove High School Auditorium.  Slawomir Dobrzanski, chair of the Keyboard Department of Kansas State University, will be presenting "Amazing Classical Music on the Santa Fe Trail" related to the 1861 Rawlinson-Terwilliger stone home, a Certified Historic Site and Interpretive Site on the Santa Fe National Historic Trail. The music will include a classical version of "Home on the Range," authentic Native American music, and music from the 1800s played in ethnic countries of the early settlers who built and lived in the stone home and who represent the ethnic foods served in the Trail Days Café & Museum. Call: (620)767-7986 for reservations. Seats are $15.00 each and proceeds go to the Trail Days Historic Site projects.
If you're not sure how to participate in National Tourism Week, it's easy! Here's a few ideas:
Share social media posts on tourism's impact in your community!
Host a giveaway of locally made products for visitors stopping by your local chamber, visitors' bureau or city hall.
Invite local elected officials for coffee while you discuss how tourism benefits your destination.
Ask your Mayor or Council to issue a proclamation to officially recognize May 2-8, 2021 as National Travel and Tourism Week.
Create an itinerary for a weekend getaway in your destination and invite employees, local residents and visitors to suggest their favorites. Highlight each location throughout the week on social media channels.
To learn more about the history and importance of National Tourism Week, visit www.ustravel.org.